Site taxonomy
This is a collectively editable wiki page. Be bold and improve it by adding any relevant information you may have.
What are taxonomy tags?
Although currently a work in progress, the site taxonomy, i.e. the way different pages are content are tagged according to topics, is an important way content is categorized.
The aims are:
- to allow users to find the most relevant content on any topic.
- find the most compelling content, whenever it was posted, newer content not necessarily being more interesting than older one.
- provide a community-editable wiki page related to each taxonomy term.
Tagging policy
Tags are considered publicly editable content. It means that users may be able to edit the tags on your private pages (blog entries, personal book pages).
Generally speaking, the tagging policy is to ensure that the aforementioned goals are being met, especially to ensure that any user can find the most compelling content in the most appropriate place.
How to tag content?
When you create (/node/add/type) or edit (/node/edit/nnn) content, you may see a field "Topics", which allows you to search and select existing tags to attach to the content.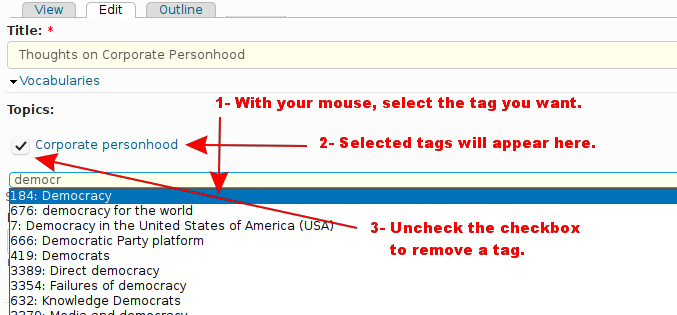 How and when to create new tags?
Before creating a new tag, consider the following:
Check first for the existence of similar tags.
Tag creation are subject to the tagging policy.
Only create reusable, generic tags.
Tags considered inappropriate or not useful enough will be deleted or merged into other existing tags.
If you are not sure whether a new tag would be appropriate or not, you may ask first.
Creating new tags requires the necessary permission. You may ask to be granted this permission if you don't have it yet.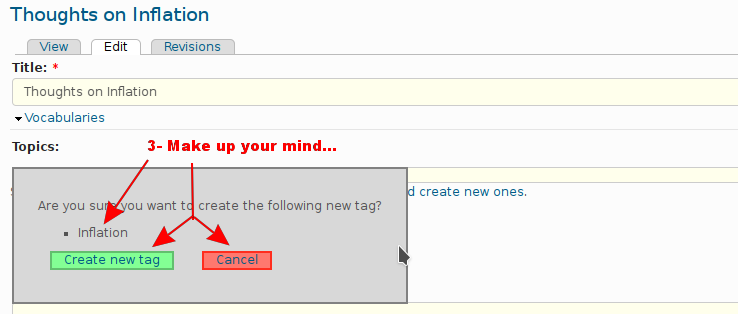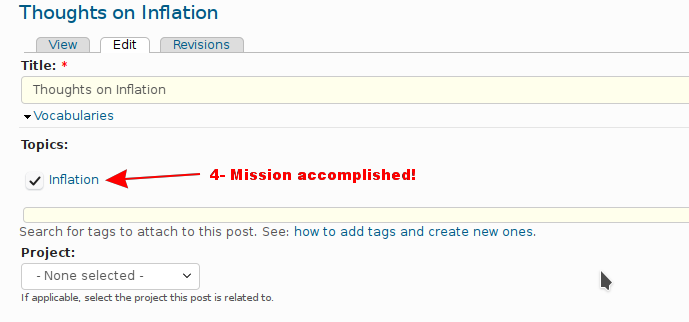 Tags within comments
Within discussion threads (blogs), it is possible to change the tags within comments. It is important to keep the following in mind:
Tag changes within a comment apply to the whole post, not to the comment only.
Tagging content is meant to be a collective endeavour, so that the best content can be found in the most appropriate places. The ability to change tags within comments is part of that logic.
News and discussion
Issues related to this page: